Always Look Your Best with
New Jersey's Top-Rated
Permanent Makeup Artist
Permanent makeup artist Jana Raris is sought after for her expertise by people in New Jersey who want to save time while always looking their best. Jana's well-developed aesthetic sense and extensive microblade, permanent makeup, and tiny tattoo training enable her to expertly assess your skin type and pigmentation and offer personalized recommendations for the most effective permanent makeup services and attractive little tattoos based on your wants and needs. As a licensed Permanent Makeup Artist in New Jersey, a Gold Member of the American Academy of Micropigmentation, and a highly trained tiny tattoo artist, Jana follows established health and sanitization guidelines to provide you with the safest possible permanent makeup services and small tattoos.
Beautiful Lash, Lip

and

Brow Enhancements


Designed for Your Face

A PhiBrows™ Artist with a background in art and design, Jana leverages her expert drawing, painting and color-matching skills to provide her Brows & Beauty clients with various natural-looking cosmetic permanent makeup services for lash, lip and brow enhancement. Whether you're new to permanent makeup, are looking for a new lip, lash or brow treatment, or want to consult with Jana about correcting a tattoo provided by another practitioner, Brows & Beauty by Jana is your trusted source for safe, attractive permanent makeup services.
Microblading (Eyebrow Permanent Makeup)
Achieve naturally fuller-looking brows with the expert brow enhancement services at Brows & Beauty by Jana. Eyebrow enhancement can be accomplished through microblading or permanent makeup and is the perfect solution for anyone with makeup allergies or naturally thin eyebrows or who has experienced thinning eyebrow hair due to alopecia, cancer treatment, aging, or menopause. Whether you want a soft makeup look or a bolder brow, PhiBrows™ Artist Jana Raris will consult with you to determine your needs and preferences and will recommend the most beneficial eyebrow enhancement services for your needs, including:
Microblading Eyebrows (3D Brows)
Microshading Eyebrows (Powder Brows / Ombre Brows)
Combination Brows
LEARN MORE
Lip Blushing
Emphasize your lips, hide lip scars, and experience a boost in your self-confidence with natural-looking lip color correction or permanent lip liner. Lip blushing can improve the shape and definition of your lips while making them appear naturally fuller. Jana's expert lip blushing skills make her NJ's trusted permanent makeup artist for restoring color to sun-damaged lips, enhancing natural lip color, and disguising cleft lip scars.
LEARN MORE
Permanent Eyeliner
A permanent eyeline is the perfect solution if you're looking for fast and easy lash enhancement that will make your natural eyelashes or eyelash extensions look darker or thicker. Before your lash line enhancement service, Jana will carefully assess your skin tone and help you select the best pigment color to ensure your most desirable results. With permanent eyeliner, you'll enjoy having perfectly applied eyeliner 24/7 without the hassle of not having to apply and refresh your eyeliner every day!
LEARN MORE
Tiny Tattoos
Celebrate your individuality, acknowledge an important milestone, or honor a loved one with a charming small tattoo precisely rendered by talented tattoo artist Jana Raris. Increasingly popular among celebrities, little tattoos are an inconspicuous way to express yourself and don't require you to commit to larger body art. Select from over 1,000 designs or have Jana create a small tattoo that reflects your style. Because she specializes only in tiny tattoos, Jana has the skill and experience to produce the fine-line tattoo work that delicate, small tattoos require. Jana's expert tattoo skills, personalized service, and use of top-quality tattoo ink and equipment have earned her a well-deserved reputation as NJ's trusted tiny tattoo artist.
LEARN MORE
Understanding Permanent Makeup and its Benefits
Permanent Makeup, or PMU, is a cosmetic tattooing procedure performed by licensed permanent makeup artists in which natural pigments are applied into the skin's dermal layer to give your features the appearance of freshly applied eyeliner, eyebrow pencil, lipstick and lip liner 24-hours a day. If you're tired of spending time each day applying expensive makeup to enhance your lips, eyelashes and eyebrows, PMU is the solution you're looking for! From filling in sparse eyebrows and improving your lashline to restoring lip color and minimizing the appearance of cleft lip scars, Brows & Beauty will provide you with the stunning and realistic-looking results you desire. People throughout New Jersey are saving time and money while experiencing greater self-confidence due to Jana's expert microblading and permanent makeup procedures, including 3D brows, Powder Brows, Ombré Brows, Combination Brows, Lip Blushing, and Permanent Eyeliner.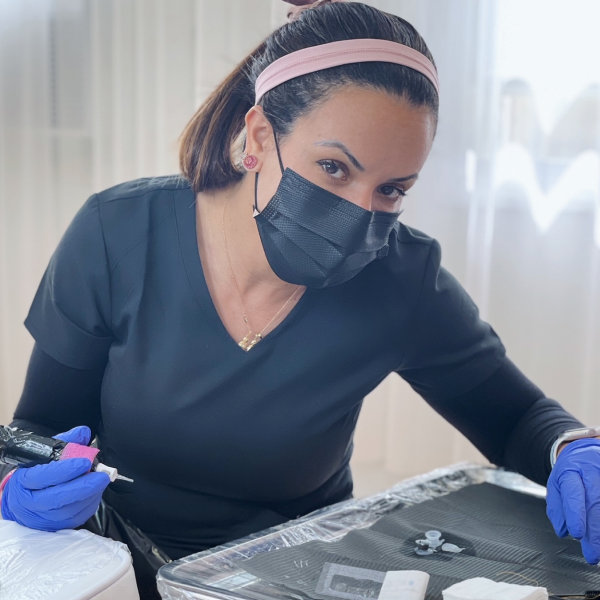 Jana Raris
Licensed Permanent Makeup Artist
Which Permanent Makeup Solutions Will Work Best for Me?
Personalized Microblade and Cosmetic Consultations
Talented PMU Artist Jana Raris is happy to consult with you to understand your permanent makeup goals. During your consultation, she'll ask you questions about your skincare habits and expertly assess your skin tone, skin type, and facial features to determine what type of permanent makeup service will yield the best and longest-lasting results for you. While a deposit is required to schedule a Brows & Beauty appointment, Jana will refund your deposit before performing any permanent makeup procedure if she determines, during your consultation, that microblading or permanent makeup would not produce positive results. Before your microblade or permanent makeup service, Jana will create a temporary sketch on the area to be treated and work with you to make any desired adjustments. Once you approve the drawing, Jana will apply a topical numbing cream to ensure your comfort during your permanent makeup service. Using thoroughly sanitized, state-of-the-art microblading and permanent makeup equipment, Jana will artfully apply the highest quality pigments using advanced shadowing techniques to add the appearance of depth and contour to your cosmetic procedure.
SCHEDULE CONSULTATION
Exceptional Follow-Up Care for Microblading, Permanent Eyeliner, and Lip Blushing
Following your procedure, Jana will provide you with post-treatment care instructions and ointment to help promote your healing and extend the life of your permanent makeup. It's crucial to protect your permanent makeup from the sun and saltwater for the first 30 days to prevent pigment fading or removal. Jana will follow up with you to address any questions or concerns and is always available for consultation by phone. You'll need to return in four to six weeks for a follow-up appointment, at which time Jana can provide you with a touch-up if needed.
Why Do New Jersey Residents Choose Brows & Beauty for Microblading, Permanent Eyeliner, Lip Blushing, and Tiny Tattoos?
Your NJ friends and neighbors depend on Brows & Beauty by Jana for the most beautiful, natural-looking microblade, cosmetic, and Tiny Tattoo services.
Top-Quality Treatments
Jana uses only the best quality pigments, tattoo machines, microblades, and after-care ointments to ensure the most favorable results of your tiny tattoo or permanent makeup procedure. To help you get the best results from microblading, permanent makeup, or little tattoos, Jana provides specific guidance regarding pre-and follow-up care, including avoiding the use of blood thinners before your procedure, arriving well-hydrated for your appointment, and staying out of the sun for 30 days after your procedure. The modern equipment and skilled techniques used at Beauty and Brows help ensure natural-looking permanent makeup results for every client.
Personalized Service
At Brows & Beauty, you'll receive the utmost personalized attention. From your customized consultation and treatment through procedure follow-up, Jana will be your only point of contact, ensuring high quality and consistency throughout your permanent makeup experience. As a professional tattoo artist and permanent makeup artist, Jana is always available to answer your questions and promptly address your concerns. During your in-person permanent makeup consultation, she'll assess your skin type and pigmentation and ask you about your permanent makeup treatment goals. She will advise you as to the best course of treatment and thoroughly explain all post-treatment recommendations. Plus, your permanent makeup procedure deposit is guaranteed refundable if Jana determines, during your consultation, that permanent makeup treatment won't produce the desired results.
Clean and Sanitary
Brows & Beauty follows all safety and cleanliness standards for our facility, equipment, and personnel.
Licensed and Highly Trained
A certified PhiBrows™ artist who also completed training at Aesthetic Lounge in New York City, Jana has met rigorous safety, testing and experience requirements to become a Licensed Permanent Makeup Artist in New Jersey. Jana was also expertly trained in the art of little tattoos by Feather Touch Studio of Knoxville, Tennessee. When you receive microblading, permanent makeup, and small tattoo services from Jana, you can be sure that you won't wind up with tissue damage, ugly scarring, or an unnatural result.
Start Always Looking Your Best Today with
New Jersey's Best
Permanent Makeup Service
Visit Our Private and Convenient New Jersey Location
People who live and work throughout New Jersey trust Brows and Beauty by Jana for safe and artistic microblading and tattooing services that enhance their eyebrows, eyelashes, and lips. Conveniently located just of Route 22 in Mountainside, NJ in a clean, modern professional office building surrounded by plenty of parking space, Brows and Beauty by Jana attracts discerning clients from towns throughout Central New Jersey, including Westfield, Cranford, Mountainside, Scotch Plains, Springfield, Union, New Providence, Berkeley Heights, and Summit.
Schedule Your Free Consultation
If you want a highly trained and experienced artist to provide you with gorgeous, natural-looking eyebrow, lash line, lip enhancements, and small tattoos, turn to licensed Permanent Makeup Artist Jana Raris of Brows and Beauty.
BOOK CONSULTATION
(551) 497-0609
The easiest way to book your Free In-person Consultation is through our online booking system.